Staff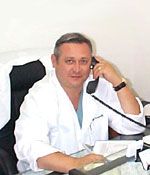 Ilya Kaminsky DC, RPT
Dr. Ilya Kaminsky has 27 years experience in the medical field including completion of his Orthopedic Surgery residency and internship in the Ukraine. Dr. Kaminsky achieved significant recognition as the youngest Chief of Surgery at a renowned Orthopedic Hospital in the Ukraine. Upon relocation to the United States, Dr. Kaminsky became a Registered Physical Therapist in 1992 in addition to completing his education at Los Angeles College of Chiropractics in 1997. He founded Ilya Kaminsky DC, RPT, A Professional Corporation in 1999, where he currently provides chiropractic, physical therapy and rehabilitative medicine services for patients in the Los Angeles and Encino areas.
Education
Ukraine
1984 Doctor of Medicine, Vinnitsa Medical Institute, Vinnitsa, Ukraine
1985 Internship and Residency, Kiev Medical Institute, Kiev, Ukraine
1986 Orthopedic Surgery Specialty
1989 Manual Therapy and Rehabilitative Medicine, Kiev Science & Research Orthopedic Institute, Kiev, Ukraine
United States
1997 Chiropractic, Los Angeles Chiropractic College, Los Angeles
Professional Accomplishments
Effectively directed numerous clinical staff members within hospital, freestanding rehabilitation clinic and private practice environments. Performed and provided high quality full-range progressive and advanced treatment for spinal pathologies.
Significantly increased patient referrals and managed care utilization while improving physician relations and contributing to continued business development.
Successfully met pre-authorization and concurrent review requirements while consistently providing quality patient care within the managed care arena.
Substantially enhanced treatment planning procedures by ensuring effective staff training, productive time management and continuing education.
Effectively directed, assisted and supervised the daily patient care responsibilities of staff Physical Therapists, Physical Therapist Assistants, Physical Therapist Aides, Occupational Therapists, Speech Therapists and Chiropractors.
Drafted a number of papers for medical journals and presented lectures throughout the Soviet Union on Rehabilitative Medicine and Orthopedic Surgery.
Professional Memberships
American Physical Therapy Association (APTA)
CA Physical Therapy Association (CPTA)
Physical Therapy Professional Network (PTPN)